Updated on January 17, 2019.
This page includes the most updated contents of Preliminary Program, thus the contents are subject to change. The finalized printed version will be handed out at the conference.
Table of Contents
Member List
What is ACECC and CECARs?
Program Overview
Plenary Sessions
ACECC Award Ceremony
Functions

Opening Ceremony
Closing Ceremony
Buffet Dinner

Floor and Access Maps
Booth Sessions
ACECC Booths
Technical Tours
General Information
LOC Members
Member List
ACECC ECM
LOC for CECAR8
Greetings from Organizers
What is ACECC and CECARs?
What is ACECC
ACECC was established in 1999 with the aim of promoting the acquisition and transfer of civil engineering knowledge for advancing the design and construction practices that ultimately improve the quality of life of all citizens from ACECC member countries. ACECC is currently comprised of member societies from 13 countries (Australia, Bangladesh, India, Indonesia, Japan, S. Korea, Mongolia, Pakistan, Philippines, Nepal, Taiwan, USA, and Vietnam) and in the near future hopes to add societies from other Asian countries.
Whats is CECARs
ACECC Protocols
Program Overview
Link to Program Overview
Plenary Sessions
Plenary Session 1
11:30 -12:30, Tuesday, April 16, 2019
"Global Vision of the 22nd Century — The Role of Asia in the 21st Century"

「22世紀の世界への視界〜21世紀のアジアが担うべきこと」

Mr. Jitsuro Terashima, Chairman, Japan Research Institute; President, Tama University
This lecture will be delivered in Japanese. Simultaneous interpretation between Japanese and English will be provided.
Plenary Session 2
16:00 -17:00, Wednesday, April 17, 2019
"Engineering the Future"
Ms. Robin A. Kemper, PE, LEED AP, F. SEI, F. ASCE and ASCE President

Robin A. Kemper, PE, LEED AP, F. SEI, F. ASCE and ASCE President has diverse structural engineering experience focused mainly on buildings. She is a Risk Engineer with Zurich North America. She provides technical support to construction project policies. Robin has a passion for Engineering Ethics, and in her spare time has given over 20 presentations to various engineering groups.Robin also served on the Board of Direction of Engineers Without Borders, and the CE Industrial Advisory Board of Rensselaer Polytechnic Institute, her alma mater. She is currently a member of the CE Industrial Advisory Boards for Rutgers University and the College of New Jersey.
Robin loves travel, seaside vacations, and her family. She and Chris have been married for 37 years; they have two wonderful daughters and two great son-in-laws, and Robin loves playing with the newest member of the family, grandson Jonah.

This lecture will be delivered in English. Simultaneous interpretation between Japanese and English will be provided.
Plenary Session 3
9:30 -10:30, Thursday, April 18, 2019
"Building resilient airports in Asia"
Mr. Benoit Rulleau. Corporate Executive Vice President and Chief Technical Officer, Kansai Airports, Co., Ltd.
This lecture will be delivered in English. Simultaneous interpretation between Japanese and English will be provided.
ACECC Awards Ceremony
Achievement Award
Outstanding Project Award
Project Award
Technical Committee Activity Award
Functions
Opening Ceremony
The opening ceremony starts with the performance by the string orchestra, "Ensemble Civil (EC)." Then, the LOC Chair introduces the history of ACECC, and then, calls the meeting to order. Having guests from the Minister of Land, Infrastructure, Transport and Tourism, and Tokyo Metropolitan Government, highlights of three-day CECAR8 events will be introduced, along with the address by the President of Asian Civil Engineering Coordinating Council (ACECC).
Opening: Performance by Ensemble Civil (EC)
History of ACECC
Opening Address: Mr. Masayasu Kayano, Chair, LOC
Guest speeches

Dr. Masafumi Mori, Vice-Minister of Land, Infrastructure, Transport and Tourism
Guest from Tokyo Metropolitan Government (TBD)

Introduction of highlights of CECAR8: Dr. Yukihiro Tsukada, Executive Director, JSCE
Introduction and group photo session of the ACECC Presidents
Closing Ceremony
In the Closing Ceremony, we look back the events of CECAR8 for three days, in addition to ACECC activity report. Next, Tokyo Protocol will be addressed. Then, the next hosting country of CECAR8, India, will be introduced after handing over the flag to the Indian side, and before closing of the meeting.
Closing Address: Prof. Osamu Kusakabe
Meeting Summary: Prof. Makoto Kimura

ACECC Activity Report, CECAR8 Summary

Tokyo Protocol: Prof. Kiyoshi Kobayashi, President, JSCE
Flag Hand-over Ceremony
Introduction of the Next Host Country
Adjourn
Buffet Dinner
Japanese traditional food and drink will be served. At the beginning of the party, a traditional Japanese celebration ceremony "Kagami-Biraki" will be performed. With that ceremony, some guests will open a large vessel of authentic Japanese sake to start the dinner. Western food, drinks and vegetarians food will be also served. Major ingredients of the dishes will be displayed.
Japanese Traditional Performance "DAIKAGURA"
A Japanese traditional performance "Edo-Daikagura" will be shown in the party. Performers SENMARU and YUKI actively perform in Asia, the USA, Europe and around the world, and known for the splendid reputation. "Edo" is the old nameof Tokyo. "Daikagura" was derived from a talisman ceremony against evils. Today, the performance including Japanese traditional acrobatics and tricks is becoming popular entertainment for parties.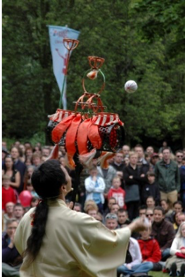 Floor Maps & Access Maps
Technical sessions
Session Table
Technical Sessions in Detail
Link to Techinical Sessions Details
Booth Exhibit
ACECC Booths
Technical Tours
CECAR8 offers you opportunities to visit actual Japanese civil engineering sites. The technical tours introduce Japan's dynamic and sustainable infrastructure development and O & M, as well as urban development in metropolitan Tokyo and old Tokyo (Edo). They display cutting-edge technologies as well as historical city planning that will increase your real-life knowledge while you are attending CECAR8.
For further information on each tour, visit Technical Tours.
One-day Tours on Friday, April 19th
#1 Road Infrastructure Tour in and around Tokyo
Latest road planning, design, construction, operation & maintenance technology, road traffic control system, and more. The tour includes all of these.
#2 Water Supply & Sewerage Infrastructure Tour
This tour includes one of the world's top-ranked tap water supply system, which has long history back to the Edo-era. It also shows you one of the oldest wastewater treatment facilities in Tokyo. Then, you will see the city from the surface of Sumida-River, which has been an important inland-waterway for ship transportation.
#3 Railway Infrastructure Tour
This tour gives you first-hand railway experience. You will hop on board a variety of Japanese trains, such as bullet train (Shinkan-sen), New Transit Waterfront Line, subway, and conventional line, and finish at the Railway Museum.
#4 Tour of the Great East Japan Earthquake Restoration
You will have a very rare opportunity to visit the site with a survivor from the disaster, who will tell you their experience and share their first-hand knowledge of recovery.
#5 Construction and Demolition Waste (CDW) Recycling Facilities Tour
This tour will show you how the final volume of disposed waste is reduced with state-of-the-art recycling technology and system. You will visit recycling facilities operated by Tokyo Metropolitan Government and private companies.
Half-Day Tours on April 16 – 18th
#6 Explore Shinjuku Subcenter on Tuesday, April 16th
In this tour, you will stroll among Shinjuku subcenter, Japan's most developed business district. You will see magnificent views from the top floors of Tokyo Metropolitan Government buildings.
#7 Excursion in Ikebukuro Area on Thursday, April 18th
Ikebukuro, Tokyo's busiest transportation hubs, has a tree-like government office building. You will be able to peek inside the tree. Then we will stroll in a park inside the big city.
#8 Modern Civil Engineering Construction Site on Wednesday, April 17th
This tour will allow you to step into a highway and railway grade separation construction site and expose you to the high-quality of Japanese civil engineering and transportation policy.
#9 Edo-Taste Old Town Tour on Tuesday, April 16th
In this tour, you will visit a small town with atmosphere of Japan's old Edo period. Young Japanese civil engineers will accompany you to explain the many historical sites.
General Information
LOC Member List